Christopher G. Machut is founder and chief technology officer for Netarus, LLC, a Norfolk, Virginia based company that manufactures and sells industrial-grade video monitoring solutions, including HoistCam and HoistCam Director. Machut, a graduate of Virginia Tech, is an experienced computer engineer and business developer.
Q: Some people in the crane industry remain unconvinced of video monitoring benefits and of reliability. Can you address those concerns and provide examples of crane owners who are successfully using cameras?
A: In our experience, every customer who installs an unmanned camera system for operator assistance can speak to the increased safety and efficacy of the system. We had a customer install a camera system for conducting blind lifts inside the hull of a cargo ship. Our case study showed a 60 percent improvement in efficiency and resulted in a safety rating of over 90 percent. The avoidance of any damage to personnel or equipment was significant, and immediately proved a successful ROI for the company. The implications for installing a camera assist system, especially when used in conjunction with remote monitoring and analytics programs, can result in fewer accidents, lower insurance premiums, and better, more streamlined job site logistics. The efficacy of such systems is proving its value in the industry and, we believe, will become the standard operating procedure for many customers.
Q: What does Netarus offer?
A: Netarus offers several camera models to accommodate different worksite environments and demands. Our most popular models include the HC140 Low Profile HoistCam and the HC180 Armored Dome HoistCam. They both can be placed on various industrial cranes and have applications in construction, marine and industrial worksites. Both models provide a visual image for operators in areas that are hard or even impossible to see from the operators' field of view. Blind lifts are no longer blind to the operator, improving safety and efficiency on any worksite. The HC180, with its armored dome, can withstand up to 20G shock and is ideal for providing durability and reliability – even in remote locations. The HC120 Mini Wireless Camera provides visualization for blind lifts on tower cranes, telescopic boom cranes and overhead cranes. Netarus camera systems are designed to be easy to set up and use. Pairing the camera and receiver is not unlike using a Bluetooth-enabled device. Our cameras are also field serviceable.
Q: How are customer demands and trends influencing the design of cameras and operator assistance devices?
A: Unmanned systems that include camera and video capture have tremendous potential to change the industry. As these systems capture real-time data, we're seeing the potential to better manage job sites, keep entire job sites, including equipment and personnel, safer and provide tools that improve site logistics and help contractors with As Build processes over the life of a project. With these systems in place and capturing continuous data, Netarus has developed the HoistCam Director, that stores the data and seamlessly converts it into actionable plans. System analytics can be customized and automated for industry leaders, from project superintendents to managers, even CEOs. Customers can design and tailor the system to meet their needs.
Q: What do you have next in development?
A: We'll be unveiling new products here at World of Concrete, as well as a new platform at ConExpo in March. Contact us at Booth #C4415 and www.netarus.com.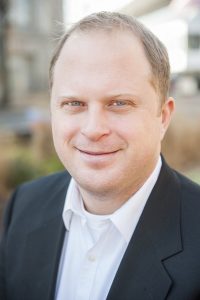 (Christopher G. Machut, CEO of Netarus)