Hoistcam by Netarus is proud to announce two of its latest case studies:  one from a mobile gantry crane and the other from a tower crane operation.  A brief snippet from each case study is below:
Case Study – Mobile Gantry Crane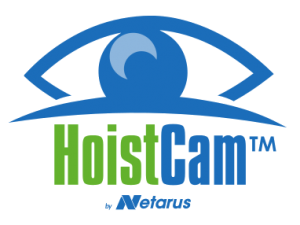 The Customer
CJ Mahan Construction, a heavy-civil and marine contractor on infrastructure projects east of the Mississippi River, has a fleet of nine Mi-Jack Travelift rubber-tire gantry cranes, including a 100-ton MJ100. The Travelift gantries are used to lift Conex containers, construction equipment, concrete barrier walls—anything less than 100 tons—in a construction yard. The contractor utilizes several Netarus HoistCam wireless camera devices to improve visibility during operations. "A lot of Travelifts serve as bridge beams in their own yard," explained Neil Eddington, principal.
The Problem
Visibility is the biggest challenge on a construction site. "A gantry crane operator needs to see where the crane tires are tracking when he's moving with a load around a structure that's blocking his visibility. Especially on blind picks and blind sets of the load, visibility is critical to safety and success on the job," says Eddington.
Before choosing the HoistCam wireless camera system, C.J. Mahan crews communicated via radio. "We relied on voice communication, with spotters on the ground, explains Eddington.
The Solution
Download the Gantry Crane Case Study Here>>
Case Study – Tower Crane in United Kingdom
The second case study takes place in the UK (United Kingdom) with VINCI Construction UK and installed by FLG Services Ltd.

A brief snippet from the case study:
Introduction
VINCI Construction UK is in the process of building two new student accommodation blocks on the University of Bath's
main Claverton Down campus on the edge of the city. The accommodation is due to open in Autumn 2018 and will
comprise 293 en-suite bedrooms in 37 flats across two buildings arranged around a landscaped courtyard.
The £34.5 million development forms part of the university's strategy to attract students of the highest calibre to Bath and the new accommodation is specifically targeted at postgraduate students seeking the highest quality living space. For the first time on campus the accommodation will offer dedicated communal learning areas including boardroom-style meeting rooms with the latest AV facilities.
Download the Tower Crane Case Study Here>>
More Case Studies from HoistCam
Want to learn more about solutions from HoistCam by Netarus?  Visit our main case studies page at https://hoistcam.com/case-studies/ to learn about the various ways HoistCam customers have increased safety and productivity within their facilities and job sites.