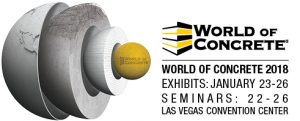 HoistCam by Netarus is will be exhibiting at World of Concrete 2018 in Las Vegas, Nevada, USA on January 23 – 26, 2018 at booth C4034.  See HoistCam™ live demo in the technology section of the World of Concrete.
HoistCam at World of Concrete provides a firm foundation for the entire concrete and masonry industries. World of Concrete is a premiere event for the general contractor and construction industry, which was created to bring the entire commercial construction trade together.
To learn more about World of Concrete 2018, please visit https://www.worldofconcrete.com. More information about HoistCam is available at https://www.hoistcam.com.  More information about Netarus is available at http://www.netarus.com.