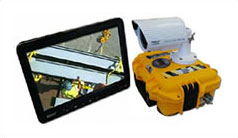 HoistCam HC160 / HC16oi is ideal for applications where needing to constantly change the zoom or focus and when orientation is important.
Note:  The HC180 / HC180i armored dome HoistCam is recommended for most applications.
Models:
HC160 – "Goose neck" HoistCam with internal 10Ah battery with charger, 9in monitor, video receiver box (VRB) and transport case.
HC160i – "Goose neck" HoistCam with no internal battery pack.  Packaged and designed to be wired into power or add-on two external 10Ah battery packs (upgrade to 20Ah available).
Optional Upgrades:
External battery packs
Split screen
Wired cameras

All HoistCam systems come with our standard warranty.
Note: Antenna kit is selected based on the type of equipment from HoistCam that is installed.  Direct line-of-sight is required between a HoistCam and the receiving antenna.
---
Supported Equipment