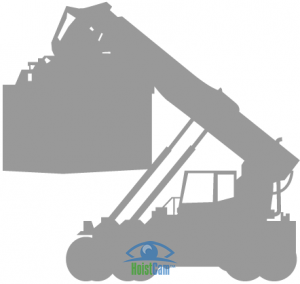 Efficient operation with reach stackers is critical in maintaining effective facility operations. Fast, reliable, and safe lifts allow intermodal goods to be delivered intact and on-time. HoistCam reach stacker camera system has demonstrated that it increases the speed of operations while improving safety, through the removal of blind spots during container lift operations.
Compatible Platforms: HC100 , HC110, HC140, HC140i, HC180, HC180i, HC190, HC190i, i-Series, DIRECTOR
The HoistCam system offers a unique set-up that allows the operator to view both sides of the container, by mounting multiple cameras on the spreader bar to improve vision during a blind lift. The video is transmitted wirelessly back to the operator, providing a seemless container loader camera system.  HoistCam can be hard-wired directly into the crane's power, or rechargeable battery packs can be deployed for installation convenience.
Dual Camera system models: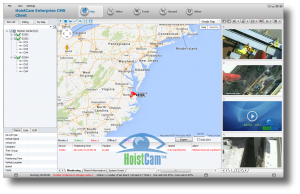 HoistCam Director.  HoistCam Director allows management and operation teams to view the reach stacker location, access recorded video and live video from any reach stacker in real-time, and allow for the set-up geofences for reach stacker to bound areas of operation.