Netarus brings a wide range of HoistCam cameras that eliminate blind and long distance lifts for heavy equipment. Depending on the use for your project, or the type of equipment, you can select the one that best suits your set of requirements.
Ask about:
HoistCam comes in low profile models (HC140), armored dome models (HC180), ignition protection models (HC170), and even full remote pan-tilt-zoom (HC190).  Wired versions or multiple wide/split screen capabilities with or without internal batteries.
There is a HoistCam model to fit virtually every application.  Contact us if you have any questions about your application.
Recommended Models (Construction, Marine, Industrial and Transportation)
Each of the recommended models listed below Netarus typically keeps in stock and ready to ship after a quality assurance check.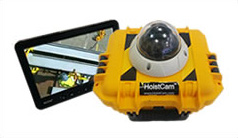 Specialized Models
The specialized models of HoistCam systems listed below are often custom built and represent models that may not be regularly available.