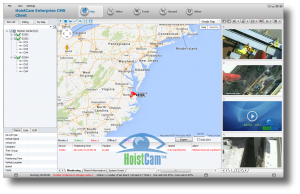 HoistCam Director Remote Enterprise Software lets you monitor any type of HoistCam equipment/ crane/ platform from anywhere in the world, whether it be in construction, industrial, or marine sectors, through 3G, 4G, or Wireless Access Point connectivity.  Single, centralized monitoring enables enhanced productivity, better allocation of time/ travel resources, and quick solutions of any confusion/ problems.  HoistCam also offers full service video analysis including complete job site analysis from logistics tracking to safety and operational support.
ASK ABOUT FULL SERVICE VIDEO ANALYSIS SERVICE FROM HOISTCAM
Features
Real-time video from anywhere in the world can be accessed instantly.
Thousands of job sites or equipment operations can be remotely viewed and managed by the team.
Access to GPS recording, geofencing, and playback with map overlay.
Recordings can be easily searched by specific date, time or alarm condition.
Record, save, and archive video feeds to hard drive, memory card, or centralized server.

View All Work Sites from a Single Application
The HoistCam Enterprise Director enables supervisors and managers to monitor their HoistCam platforms from anywhere in the world. Each HoistCam MDVR (Mobile Digital Video Recorder) can support from 4 to 8 cameras on each piece of equipment. The HoistCam Enterprise Director can monitor up to 5,000 mobile, industrial, marine or construction pieces of equipment through a single user interface.
View Remote Sites Operational and Business Intelligence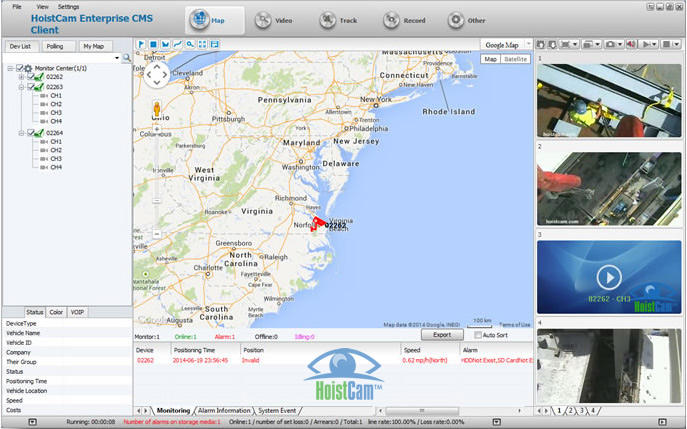 Monitor your fleet of construction, industrial, or marine equipment from a single location. The HoistCam Enterprise Director Client software is designed to run virtually on any PC or mobile operating system. With the HoistCam Director Client, you can view your entire fleet of equipment within a particular region or across the world all with a single centralized login.
Monitor Site Progress = More Informed Decisions
Ask about Full Service Analytics from HoistCam
The HoistCam Director Client allows you to view the job site remotely exactly as the operator sees the it from one or more HoistCam systems. View information such as the GPS location, download snapshots, review and download recordings and even configure the HoistCam MDVR remotely. With the HoistCam Enterprise Director Platform, day-to-day business operations can be handled with precise accuracy.
The HoistCam MDVR is at the heart of each piece of equipment. The MDVR ties together all of the video feeds (and optional sensors) and sends this information back to the central HoistCam Director Server.
The MDVR supports the following connectivity options:
3G
4G
Wireless Access point
For more Information on integrating HoistCam Director or HoistCam SiteTrax.io service, please contact us.
Equipment