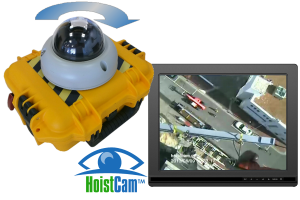 HD Pan-Tilt-Zoom Dome Analog Day/Night Vision HoistCam
HoistCam HD197 is a rugged wireless camera system designed for environments where image control and remote control is required. HoistCam HD197 series includes 30x optical zoom lens with a 3.5mm (65 degrees) to 104mm lens (2 degrees) with a 3D joystick. This model also includes the ability to pre-program pan, tilt and zoom orientation using presets and quickly recall those presets with up to 100+ programmable keys.
 Controlled by the operator of the heavy equipment or remotely via HoistCam Director.
The HD pan-tilt-zoom (PTZ) dome HoistCam is perfect for construction, industrial, and offshore applications where line-of-sight for the operator is needed in some of the most remote locations.
Models:
HD197 Brochure – HD Pan-Tilt-Zoom (PTZ) dome HoistCam with internal 10Ah battery, charger, 9in monitor, video receiver box (VRB) and transport case.
HD197i Brochure – HD Pan-Tilt-Zoom (PTZ) dome HoistCam with no internal battery pack.  Packaged and designed to be wired into power or add-on two external 10Ah battery packs (upgrade to 20Ah available).
Optional Upgrades:
External battery packs
Split screen
Wired cameras

All HoistCam systems come with our standard warranty.
Ask about remote access, recording and microphone integration with audio transmitted directly from the camera to the operator.
Note: Antenna kit is not included and selected base on the type of equipment the HoistCam is installed.
Supported Equipment