The following is a list of case studies involving various types of situational awareness platforms including HoistCam engineered and manufactured by Netarus.
Case Study Index
---
HoistCam Case Study: Lifting Roofing Panels with HoistCam
Description:Using a boom tip mounted HoistCam, QClad Pty Ltd had over 15,000m2 of insulated roof panels to install with an all terrain crane. When working in such conditions, the crane operator often has to perform many blind lifts, which can take up a great deal of time, cost a good bit of money, raise the chance of damage to equipment, and in some cases even increase the risk of injury to those in the area. While safely performing these lifts has always been a priority to QClad, doing so can be expensive. Since safety is first and foremost at QClad, they set out to find a way to speed up the process without sacrificing that safety.
HoistCam Article: HoistCam Case Study – Lifting Roofing Panels with HoistCam
Published Article: Seeing is Believing – Lifting Roofing Panels with HoistCam
---
HoistCam Case Study: HoistCam on Rubber Tired Gantry (RTG) Crane
Description: This detailed video and case study provides an overview of the Mi-Jack MJ100 rubber tired gantry crane of how the system is installed and the view points from the operator's cab. The ability to simply see the pins going into the top holes of the containers and being able to see the legs on the opposite sides of the crane significantly increases safety and productivity for the operator.  Often used in many intermodal applications, this solution presented in the video and case study also demonstrates how HoistCam can be used with container loaders and reach stackers.  HoistCam mounted near the pins enables the operator to see the pins of the spreader bar aligning with the top of the container.
Case Study: PDF – Mobile Gantry Operators Experience Improved Visibility and Better Jobsite Communication with HoistCam Camera
---
HoistCam Case Study: HoistCam on Tower Crane in the UK
Description: This case study features an implementation on a tower crane in the UK demonstrates the versatility of HoistCam within a construction setting.

Case Study: PDF – HoistCam on Tower Crane in the UK (PDF)
---
HoistCam Case Study: Steeled for Safety – Picking Up Cold Rolled without Damage to Person or Product
Description: This case study features a steel mill picking rolled steel with their overhead cranes. Without visual guidance, the hook from an overhead gantry crane goes down into the center bore of the roll. Contact with the bore damages the steel and requires the roll to be redone. HoistCam is featured in this case study to significantly increase safety and productivity for their crane operators by over 90%. This case study is available in both English and Spanish.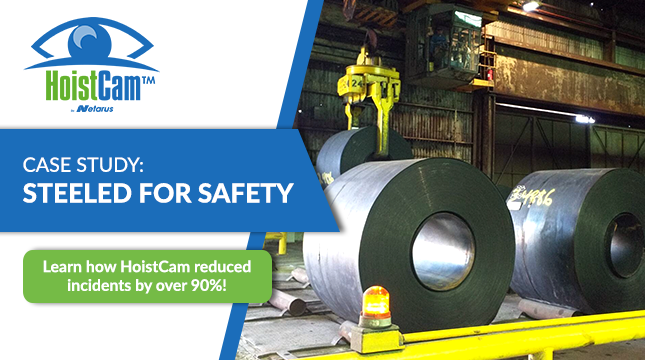 ---
*HoistCam is a safety aid and not intended to be a replacement for standard crane practice.  Care should be taken to make sure all proper safety and operational procedures are followed. These articles, videos and case studies do not guarantee that your organization will have the same results. Individual results may vary based on effort, experience, conditions and other unknown factors.